As digital currencies move to the center of new asset discovery for investors, many of these nascent management teams seek traction with similar goals to those of the exchanges in the 1980s. One important thing I learned working the derivative trading pits in Chicago in the 70s and 80s as a member of the Chicago Mercantile Exchange  (CME[NGS] – $161.04     Trade ) is that experience, skill and voracity of the management team will always be a critical factor in the eventual success or failure of any venture.
Leo Melamed, now Chairman Emeritus of CME, used to stand at the door whenever a new product was introduced and personally ask the members to provide liquidity for 15 minutes for whichever new futures contract was debuting. Inevitably, the pit would always be packed on opening day with local market makers and media. Leo was a great salesman and the rare financial services guy who could trade his own capital and organize members with equal effectiveness. His real skill, perhaps, was in understanding what futures contracts hedgers would need, and why they would need them. Leo did it all, he created the contract specs, provided liquidity and gathered other market makers to put up their own money and show up for the latest new card game.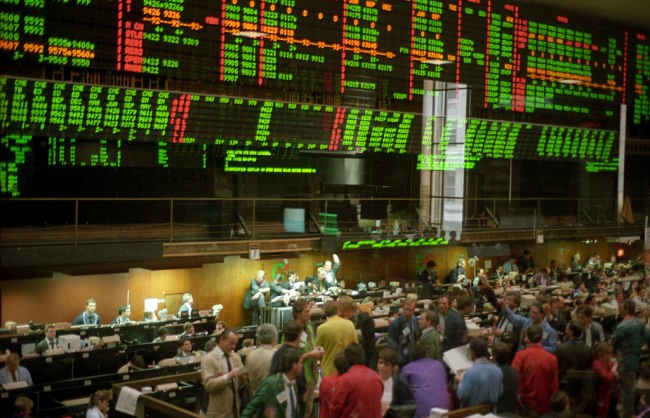 Jump ahead to 2018, and among the many new electronic venues is one called Alt 5 Sigma, a trading platform that aims to bridge the gap between cryptocurrencies and the overwhelming majority of US investors who are unfamiliar with them, or not interested in using exchanges on their own.
According to the company website, the Alt 5 Sigma platform has been built exclusively for use by financial institutions. The FIX (financial information exchange) protocol makes connectivity to their trading platform easy to integrate into most bank, brokerage, fund and other financial institution order management and trading platforms. For those institutions that do not want to integrate the platform into their existing systems, and will offer a private labeled, secure web interface.
Source: Alt 5 Sigma
In plain English, Alt 5 Sigma is setting up secure plumbing so the water can flow, and it will derive revenue from white labeling products with other companies' names on the masthead. It is a bit like Intel running inside a PC, in which the unique power of clearing and trade matching, speed and discovery are outsourced to someone who knows what they are doing.
Some of the nuance behind the curtain resides in features the industry clearly needs. Recent polling of users and executives show the primary concerns of most current or potential users revolve around security, the effect of regulation and the integrity of the men and women behind these products. It's funny that the world wants decentralization while at the same time desiring the trappings of a centralized trading platform to secure assets. A glance at the feature set that Alt 5 Sigma is touting leads me to conclude that this team may indeed have built a better mousetrap:
Cryptocurrency trading integrated into their current order entry system.
Cryptocurrency trade execution and trade reporting.
Client reporting.
Storage of digital cryptocurrency assets in a highly secure environment.
Latest FIX protocol for seamless integrations with API
10 most active cryptocurrencies (additional instruments can be added on demand).
1 million transactions per second capability and can be scaled up.
10 major fiat pairs (FOREX).
Unlimited client accounts and sub-accounts.
Fully compliant KYC and AML
Connected to multiple additional liquidity sources.
Multiple order management system capabilities.
Best practice in cyber security.
Best practice in security (place, people, and things).
Best practice in cold storage.
Audited positions of hot and cold assets.
While this is certainly an ambitious offering, I rely on the age old wisdom of betting on the jockey. This management team and advisory board at Alt 5 Sigma appears to be well balanced with market practitioners and modern technologists. Chairman and CEO André Beauchesne has experience in digital strategy, e-commerce, business development and marketing and content strategy. Another name who caught my attention is Enzo Villani, an advisory board member whom I am fortunate to know. Too few investors know that Enzo invented the "Ring the Bell" marketing genius behind a great tool that The Nasdaq Stock Market uses every day to keep companies in the spotlight. Enzo plucked me out of retirement in 2015 to help spread the message here at Equities.com. His involvement in Alt 5 Sigma confirms the interest that we share in cryptocurrencies and blockchain—and our common belief that we see clear echoes today of the explosion of derivative products in the 1980s and internet stocks in the 1990s.
As we have seen before, it's the management teams that will make the difference between success and failure as new trails are blazed in this modern era of investing. Plus ça change, plus c'est la même chose. Alt 5 Sigma has a historical cog in exchange history as part of the team, and, as a trader, I'm willing to bet on Enzo again.
DISCLOSURE: The views and opinions expressed in this article are those of the authors, and do not represent the views of equities.com. Readers should not consider statements made by the author as formal recommendations and should consult their financial advisor before making any investment decisions. To read our full disclosure, please go to: http://www.equities.com/disclaimer